---
The Lazenby Group are a
skilled, experienced team

of 3D Product Designers, Sheet Metal Fabricators, OEM Kiosk Manufacturers and specialist Composite Panel Bonders based in Hull, Yorkshire.
We take pride in the work we produce, bringing the best products to the market. We are all passionate about what we do here at the Lazenby Group; forever pushing the boundaries and constantly improving things runs through the very heart of our business, to meet not only our client's expectations, but our own, as we drive ourselves to be the best. Our clients coined a phrase; they ask us to
'Lazenbyise it'

.
Lazenby's was first set up in Hull by Paul Lazenby back in May 1963, the same week that he got married. The first premises were at the Clarendon Street Garage which, within 18 months through rapid growth, needed to relocate; the company then moved to Grosvenor Street. Over the years, the Lazenby Group moved to several other premises, again due to rapid growth. From Grosvenor Street, the company moved to Central Street, then to Main Street, where Paul eventually retired. Finally, we moved to our current location in 2008, a 20,000 square foot building on Gothenburg way, in the heart of the city's industrial area.
Upon Paul's retirement, Bob Sewell, the then Factory manager, took over the helm as Managing Director and began a new chapter in the story of Lazenby's ongoing success. Over the next few years, Bob, with his silent partner Bill Neale, invested heavily in both time and money to cement our position as leader in Sheet Metal Fabrication, Product Design and technology, Composite Panel Systems and innovative Kiosk Solutions; a tactic which has worked well, netting them a host of accolades and design awards over the years.
Now, CEO Neil Sewell has transformed Lazenby Group to reflect the diverse range of products and services that we offer, whilst continuing to stay ahead of the game. The Lazenby Group has been in the manufacturing industry for over 50 years and to this day continues to expand and innovate to create contemporary, high quality products. We only deliver the best service to our customers, as they are at the heart of everything we do. Our team ethos keeps our feet on the ground, so we concentrate on getting the basics right. If we don't exceed customer expectations, then we haven't delivered, full stop.
If you would like to know more about our range of services, please don't hesitate to Contact Us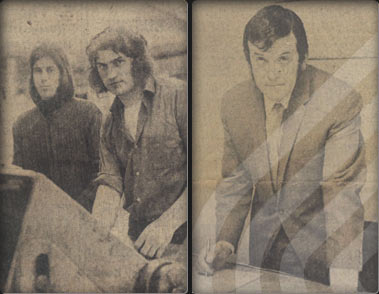 Get in touch

with us today!
---
What
our customers

say
about our company
We've been using Lazenbys for many years now; they supply brackets and steelwork for us for use in signage and the quality of their work, and the service that we receive from their team, is always exceptional.

We use Lazenby's for all our sheet metal and kiosk needs and have done for many years now – the quality, attention to detail, and turnaround time are why we use them.

We have dealt with the Lazenby Group for a number of years now as both a supplier and a client – They are efficient in what they do and the quality they consistently produce. We always recommend them to our clients and they always give us great feedback on using Lazenbys.